Description
Technical Ratings
Max. Speed
Max. Pressure
Temperature
Media
300r/min
30 Mpa
-30℃~+80℃
Oil, Air or Similar
MH Series Hydraulic Rotary Joints Notes
1. Operation under extreme ratings should be avoided. Maximal working speedis in reverse proportion to working pressure, and is also influenced by the media lubricity and the heat dissipation ability of the sealing components.When the rotation speed is lower than 10RPM, the maximal pressure can be up to 30Mpa.
2. Inner leakage is allowed between each passage. Please pay attention to the compatibility of different working media to avoid crossed contamination.
3. The working fluid or hydraulic media should be filtered before beingused. The filtration precision should be no lower than 10um.
4. Drainage hole is accompanied for observation and collection of escaping media.
5. For other applications, please consult AIKE SEALING beforehan.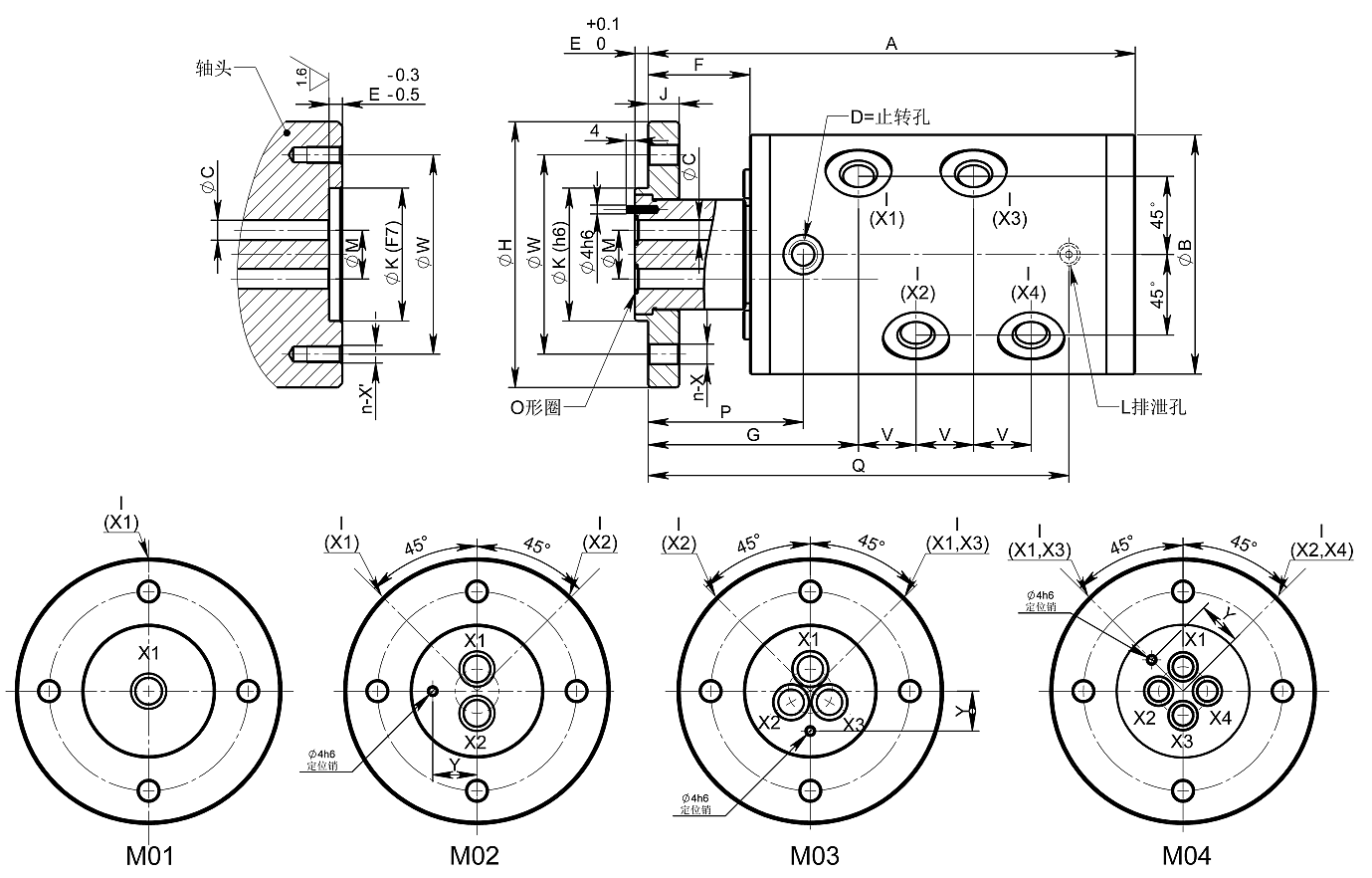 | Model | I | K | A | B | C | M | D | P | E | F | G | V | J | W | H | Y | L | Q | n-X | N-X' | Max.Speed |
| --- | --- | --- | --- | --- | --- | --- | --- | --- | --- | --- | --- | --- | --- | --- | --- | --- | --- | --- | --- | --- | --- |
| MH01015 | 1xG1/2" | 40 | 126 | 78 | 13 | / | 2-M8 | 58 | 5 | 40 | 83.5 | / | 10 | 60 | 80 | / | Rc1/8" | 95 | 4-Φ9 | 4-M8 | 190 |
| MH01020 | 1xG3/4" | 45 | 133 | 83 | 16 | / | 2-M8 | 59 | 5 | 40 | 88 | / | 12 | 65 | 85 | / | Rc1/8" | 102 | 4-Φ9 | 4-M8 | 160 |
| MH01025 | 1xG1" | 45 | 143 | 90 | 22 | / | 2-M12 | 64 | 5 | 40 | 95 | / | 12 | 65 | 85 | / | Rc1/8" | 110 | 4-Φ9 | 4-M8 | 150 |
| MH01032 | 1xG1-1/4" | 55 | 162 | 108 | 30 | / | 2-M12 | 65 | 6 | 46 | 105 | / | 14 | 80 | 110 | / | Rc1/8" | 126 | 4-Φ9 | 4-M8 | 110 |
| MH02008 | 2xG1/4" | 45 | 143 | 83 | 6 | 14 | 2-M8 | 58 | 5 | 39 | 82 | 21.2 | 12 | 65 | 85 | 12 | Rc1/8" | 113 | 4-Φ9 | 4-M8 | 160 |
| MH02010 | 2xG3/8" | 45 | 153 | 90 | 9 | 15 | 2-M12 | 65 | 5 | 41 | 88.5 | 23 | 12 | 65 | 85 | 12 | Rc1/8" | 125 | 4-Φ9 | 4-M8 | 150 |
| MH02015 | 2xG1/2" | 55 | 176 | 108 | 12 | 20 | 2-M12 | 70 | 6 | 46 | 96.5 | 30 | 14 | 80 | 110 | 12 | Rc1/8" | 144 | 4-Φ9 | 4-M8 | 110 |
| MH02020 | 2xG3/4" | 70 | 226 | 155 | 16 | 30 | 2-M12 | 100 | 5 | 54 | 125 | 36 | 16 | 100 | 125 | 25 | Rc1/8" | 180 | 6-Φ14 | 6-M12 | 95 |
| MH03008 | 3xG1/4" | 45 | 164 | 83 | 6 | 14 | 2-M8 | 58 | 5 | 39 | 82 | 21 | 12 | 65 | 85 | 12 | Rc1/8" | 140 | 4-Φ9 | 4-M8 | 160 |
| MH03010 | 3xG3/8" | 45 | 175 | 90 | 9 | 20 | 2-M12 | 65 | 5 | 41 | 89 | 23 | 12 | 65 | 85 | 12 | Rc1/8" | 150 | 4-Φ9 | 4-M8 | 150 |
| MH03015 | 3xG1/2" | 60 | 206 | 106 | 12 | 20 | 2-M12 | 70 | 6 | 46 | 96.5 | 30 | 14 | 90 | 120 | 18 | Rc1/8" | 170 | 4-Φ9 | 4-M8 | 110 |
| MH04006 | 4xG1/8" | 45 | 176 | 90 | 6 | 18 | 2-M12 | 64 | 5 | 40 | 84 | 18 | 12 | 65 | 85 | 15 | Rc1/8" | 145 | 4-Φ9 | 4-M8 | 150 |
| MH04008 | 4xG1/4" | 45 | 176 | 90 | 6 | 18 | 2-M12 | 64 | 5 | 40 | 84 | 18 | 12 | 65 | 85 | 15 | Rc1/8" | 145 | 4-Φ9 | 4-M8 | 150 |
| MH04010 | 4xG3/8" | 60 | 220 | 108 | 9 | 22 | 2-M12 | 70 | 6 | 46 | 95 | 26 | 14 | 90 | 120 | 20 | Rc1/8" | 190 | 4-Φ9 | 4-M8 | 110 |
| MH04015 | 4xG1/2" | 75 | 244 | 115 | 12 | 29 | 2-M12 | 74 | 6 | 47 | 103 | 30 | 16 | 110 | 130 | 25 | Rc1/8" | 210 | 4-Φ9 | 4-M8 | 95 |
Note: Max. Speed=10Mpa Pressure max speed (r/min)