Pneumatic/Hydraulic electrical rotary joints
GRAND start rotary joints business with electrical slip rings, solid solutions for 1-16 passages
Pneumatic rotary joints
Dynamic sealing technology with NSK high precision bearing
Hydraulic rotary joints
Double high-precision maintenance-free bearing with UKS sealing parts
Wind turbine hydraulic rotary joints
Special hydraulic sealing structure designed for high-speed and high-pressure application
What is Rotary Joint?
Rotary joint is also know as rotary union, is a type of rotary seal that connects rotary equipment to fixed pipes and is used to transport steam, water, heat transfer oil, coolant, hydraulic oil, air and other media. Rotary unions can be designed with multiple channels and can manage multiple media types simultaneously. In these cases, the use of a soft seal (such as an O-ring) prevents the fluid from "crossing" into another channel. Soft-sealed multi-channel rotary unions are widely used in a variety of industries and applications, including oil and gas, food and beverage, aerospace, robotics and medical equipment. In some applications, rotary joints are equipped with slip rings for transmitting electrical signals and hydraulic power.
Rotary Joints Videos and Image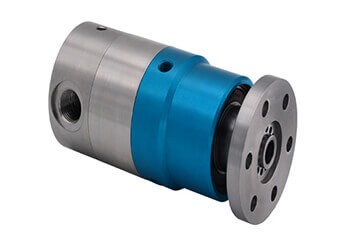 Overview
Thanks to the slip ring manufacturing business, GRAND technology start from pneumatic/hydraulic rotary joints with electrical slip rings. Now we have developed multi-channel rotary joints, pneumatic rotary joints, hydraulic rotary joints and wind generators hydraulic rotary joints. Can provide one-stop solution for rotary transmission application.
FAQS
Do you offer pneumatic or hydraulic rotary joint with electrical slip ring?
Let us see the details, in some case rotary joint and slip ring can be integrated together and GRAND have electrical + pneumatic/hydraulic solutions. For example, you can find our MLA series can not be combined with slip ring.
What is the custom rotary joint delivery time?
It is depend on the detail situation, it will take 30 days normally.
Do you have rotary joint in stock?
Yes. Strandard models in stock like MLA, MQR, MH series. We also open ideas for stock regarding repeat orders.
What is the warranty period?
One year for retail and have policies for distributors.