Slip rings play a pivotal role in rotary systems, allowing electrical power and signals to be transmitted between stationary and rotating components. To ensure their longevity and reliability, it is crucial to understand and select the appropriate Ingress Protection (IP) ratings for these slip rings. This comprehensive guide provides an in-depth analysis of Slip Ring IP ratings, demystifying the various aspects ranging from its definition and selection to their applications, safety hazards, data based on different slip ring types, handy buying tips, and some frequently asked questions. With this information, users can make well-informed decisions and choose the most suitable slip ring IP rating for their specific needs, ensuring their rotating systems operate smoothly under various environmental conditions.
What Are Slip Ring IP Ratings?
Slip Ring IP Ratings are an internationally recognized classification system, developed by the International Electrotechnical Commission (IEC), that signifies the level of sealing effectiveness of electrical enclosures, such as slip rings, against intrusion from foreign bodies and moisture. In the context of slip rings, IP ratings help define their degree of resistance to dust penetration and water ingress, which is critical to their performance, durability, and overall safety.
The term "IP" stands for Ingress Protection, and it is followed by a two-digit number. Each digit represents a specific resistance level of the slip ring to various elements.
The first digit pertains to the protection level against solid particles and dust, with values ranging from 0 to 6. A value of 0 means that there is no protection against dust or solid objects, while a rating of 6 denotes complete protection against dust ingress.
The second digit denotes the level of protection against water ingress, with values ranging from 0 to 8. The higher the number, the better the protection against water intrusion. A rating of 0 signifies no protection, whereas an 8 rating indicates the slip ring is capable of withstanding continuous submersion in water under specified pressures.
In summary, the IP rating of a slip ring helps users comprehend its ability to withstand various environmental challenges, such as dust and moisture penetration. By understanding and selecting the right slip ring IP rating, users can ensure the appropriate protection levels for their specific applications and operating environments, leading to improved performance, increased lifespan, and enhanced safety of their rotary systems.
How to Choose the Appropriate Slip Ring IP Rating?
Choosing an appropriate IP rating for a slip ring is vital, as it can significantly affect the slip ring's operational performance, reliability, and lifespan. The selection process isn't one-size-fits-all and mainly depends on two influential factors: the operating environment and the specific application of the slip ring.
Operating Environment
This refers to the environmental conditions where the slip ring is expected to operate. The consideration includes dust concentration, water exposure levels (both moisture and liquid), temperature, and the presence of any other elements that might harm the equipment.
If the slip ring operates in a highly dusty environment or a location prone to heavy rain or water splashes — like construction equipment, wind turbines, or outdoor surveillance systems, an IP rating with a high first and second digit (for instance, IP65) would be ideal. This rating ensures the slip ring's comprehensive protection against dust intrusion and gives it the ability to withstand low-pressure water jets from any direction.
For indoor, controlled environments with less exposure to both water and dust — such as rotary tables, test equipment, or semiconductor processing equipment, a lower IP rating may suffice. An IP rating like IP20 would offer fundamental protection from larger solid objects and no protection from water ingress.
Application of the Slip Ring
This refers to the function the slip ring is performing within a specific industry or device. Certain sectors might demand higher IP-rated slip rings due to the challenging operating conditions or safety prerequisites.
For instance, in the medical industry, slip rings used in CT scanners or MRI machines often require high IP ratings since the devices need absolute protection against dust and liquid penetration to ensure accurate test results and patient safety.
In contrast, slip rings in a desktop cable reel or a small piece of indoor equipment might call for a lower IP rating since the levels of environmental hazards are relatively minimal.
It's imperative to align the slip ring IP rating with your specific requirements. While higher IP ratings offer more protection, they also typically come with added costs. Therefore, balancing the need for protection against cost-effectiveness and suitability should be considered in your decision-making process.
Remember, each selection should be made after careful consideration and consultation with technicians or slip ring experts to prevent selecting an under or over-specified IP rating, both of which could lead to unwanted consequences.
Application of Slip Ring IP Rating with Different Values
IP ratings guide the suitability use of slip rings in various applications and environments. Understanding what each value means can help identify the right slip ring for a specific task. Let's discuss the application of slip rings with different IP ratings:
Slip Rings with IP65 Rating
A slip ring with an IP65 rating is completely protected against dust (the first digit, 6) and can resist water jets from any direction (the second digit, 5). They are widely used in outdoor settings, where there's a high risk of dust and water exposure, including amusement rides, outdoor surveillance systems, wind turbines, maritime/shipboard applications, and construction machinery.
Slip Rings with IP54 Rating
An IP54-rated slip ring is protected against a limited amount of dust that may enter (with no harmful deposit, the first digit, 5) and splashing water from any angle (the second digit, 4). They are deployed in less harsh environments or where occasional contact with water and dust is possible. These may include food processing machinery, pharmaceutical handling equipment, and robotics.
Slip Rings with IP40 Rating
Slip rings with an IP40 rating provide protection from solid bodies larger than 1mm (the first digit, 4), such as small tools and wires, but not dust or water. These are suitable for controlled indoor environments, such as packaging machines, light industrial applications, and laboratory equipment.
Slip Rings with IP20 Rating
An IP20-rated slip ring is protected against solid objects larger than 12.5mm, such as fingers (the first digit, 2), with no protection against water (the second digit, 0). They are used for indoor systems where there's minimal risk of dust or water intrusion and where touch protection is sufficient. These applications include desktop cable reels, optical rotary joints, and electrical testing equipment.
It's crucial to note that choosing an IP rating is not just about choosing a higher rating. The appropriate IP rating is the one that best matches the environmental and operational needs of your application. Higher-rated IP slip rings have superior dust and water protection but come at a higher cost. In a balanced decision-making process, the cost, application requirements, and the operating environment should all be considered.
Slip Ring IP Rating and Slip Ring Safety Hazards
Selecting the correct slip ring IP rating is not only about ensuring optimal performance and reliability but also about avoiding safety hazards associated with inappropriate use of slip rings. Here, we discuss some of the potential hazards that can arise when using slip rings with incorrect IP ratings:
Electrical Short Circuits
Ingress of dust or moisture in a slip ring with insufficient protection may lead to unintended electrical conduction paths, thus causing short circuits. Moreover, if the short circuit is not detected, it could lead to equipment malfunction, failure, or even fire hazards, which could be dangerous for both the operators and the facility.
Overheating
Like all electrical components, slip rings heat up during operation. However, if dust or moisture finds its way inside due to inadequate IP rating, overheating could become a significant concern. Dust settling on critical components may act as an insulating layer, preventing effective heat dissipation, while moisture can cause increased resistance in the electrical contacts. Both of these scenarios could lead to elevated temperatures, causing malfunctioning, reduced component life, or possible damage to surrounding equipment.
Equipment Failure
An improper IP rating could result in a slip ring's inability to withstand environmental factors, causing components to degrade or fail prematurely. As a direct consequence, this triggers unexpected downtime, expensive repairs, or even replacements, hampering production and leading to financial losses.
Contamination Risk
In industries such as pharmaceutical, medical, and food processing, a slip ring with an incorrect IP rating might lead to contamination of the environment or the end product. In these applications, slip rings must be sealed sufficiently to avoid dust or moisture penetration, as well as meet specific design criteria to prevent contamination and ensure compliance with facility regulations and cleanliness standards.
Utilizing slip rings with a suitable IP rating is critical in preventing these safety hazards. It is always advised to consult with experts, engineers, or slip ring manufacturers while selecting the appropriate protection levels. Proper installation, maintenance, and regular inspections are also essential in ensuring the long-lasting performance and safety of the slip ring and its application in various environments.
Slip Ring IP Rating Data of Different Types of Slip Rings
There are various types of slip rings, each with diverse IP ratings. For example, PIN slip rings mostly come with IP54 to IP68 ratings, catering to ordinary indoor applications and some harsh outdoor environments. Pancake slip rings, in contrast, usually are sealed up to IP51, primarily suitable for indoor conditions.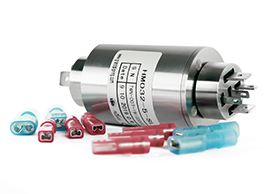 PIN slip rings are the substitute for mercury slip rings. Mercury slip rings use liquid metal mercury as a transmission medium. Special sealing technology, insulation, and compact design made them outstanding features like extremely long working life, low electrical noise, and contact resistance. Mercury is a chronic toxic substance. There have great potential threat to both the environment and the operators if leaked. People have been actively searching for alternative products.
| | | | | | | | |
| --- | --- | --- | --- | --- | --- | --- | --- |
| | | | | | | | |
| | | | | | | | |
| | | | | | | | |
| | | | | | | | |
| | | | | | | | |
| | | | | | | | |
| | | | | | | | |
| | | | | | | | |
| | | | | | | | |
| | | | | | | | |
| | | | | | | | |
| | | | | | | | |
| | | | | | | | |
◆ Support M5, G1 / 8, G1 / 4, G3 / 8, G1 / 2, G3 / 4, G1 thread for pneumatic
◆ Dynamic sealing technology
◆ With NSK high precision bearing
◆ Abrasion resistant, low torque, high speed
◆ Can be combined to transfer 2~96 circuits power and signal
Electrical Data
Mechanical Data
Rated Voltage
Power: 0~440 VAC/VDC
Signal: 0~240 VAC/VDC
Max. Speed
400RPM
Insulation Resistance
Power: ≥1000MΩ/500VDC
Signal: ≥1000MΩ/500VDC
Max. Pressure
10Bar
Insulation Strength
500VAC@50Hz, 60s
Working Temperature
-30℃~+80℃
Lead Wires
Standard (adjustable)
Working Humidity
0~85% RH
Lead Length
Standard 300mm (adjustable)
Housing Material
Aluminum Alloy
Electrical Noise
<0.01Ω
Protection Grade
IP51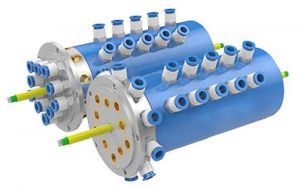 ◆ Support M5, G1 / 8, G1 / 4, G3 / 8, G1 / 2, G3 / 4, G1 thread for pneumatic
◆ Dynamic sealing technology
◆ With NSK high precision bearing
◆ Abrasion resistant, low torque, high speed
◆ Can be combined to transfer 2~96 circuits power and signal
Electrical Data
Mechanical Data
Rated Voltage
Power: 0~440 VAC/VDC
Signal: 0~240 VAC/VDC
Max. Speed
400RPM
Insulation Resistance
Power: ≥1000MΩ/500VDC
Signal: ≥1000MΩ/500VDC
Max. Pressure
10Bar
Insulation Strength
500VAC@50Hz, 60s
Working Temperature
-30℃~+80℃
Lead Wires
Standard (adjustable)
Working Humidity
0~85% RH
Lead Length
Standard 300mm (adjustable)
Housing Material
Aluminum Alloy
Electrical Noise
<0.01Ω
Protection Grade
IP51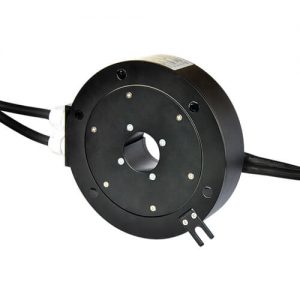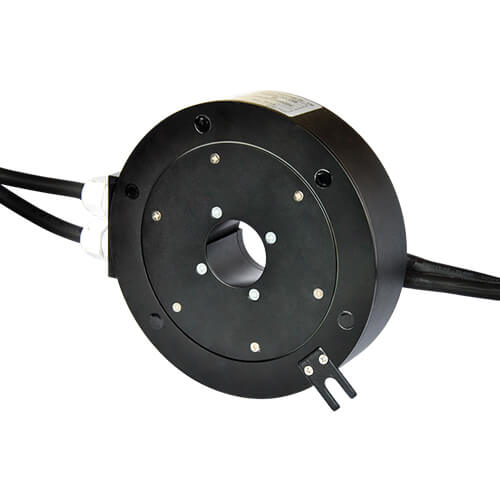 The pancake slip ring is similar to through through-hole slip ring but is especially used for the rotating system with a height limit. Also called flat slip ring, flat disc electrical slip ring, or platter slip ring, since the shape is similar to a platter, rings, and brushes contact around the center of the circle. Pancake slip ring components include stator, rotor, and contacts, mainly used for transmitting precise signals and power or combined with pneumatic and hydraulic media. More electrical power, current, and signal circuits can extend broadwise limitless on flat diameter.
Pancake slip rings can be configured in two types, integrated and separated.
Integrated ring types can be designed for solid or through-hole rotating systems.
The separated ring type is composed of a separated rotor and contact brush, which can be designed with PCB.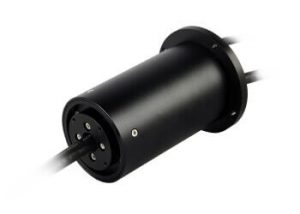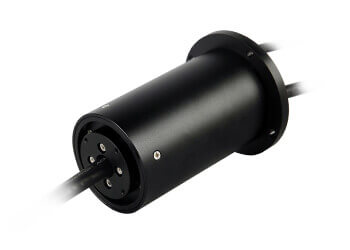 A waterproof slip ring is especially for working under moisture, corrosion, and underwater. The protection grade will be IP65, IP67, and IP68, and the liquid components in the working environment such as freshwater, seawater, oil should be considered. Waterproof slip rings are widely used in ships, harbor equipment, and some water or moisture environment working conditions. The units work well for transmitting precision signals, and electrical power.
Buying Tips about Slip Ring IP Rating
Purchasing slip rings with the appropriate IP rating can be daunting if you don't know exactly what to look for. Here are some tips to help guide your purchase process:
Understand Your Environment
The first step in choosing the right IP rating for your slip ring is understanding the environment your slip ring will operate in. Consider humidity, dust level, presence of water or other liquids, extreme temperatures, and any other environmental challenges that could affect the slip ring's performance.
Consider Your Application
Different applications demand different IP ratings. A slip ring for indoor use (e.g., in a laboratory or an office environment) might not require as high of an IP rating as a slip ring utilized in outdoor environments or harsh industrial situations.
Balance Protection and Cost
Higher IP ratings provide more protection but also come at a higher cost. It's critical to consider whether the elevated expenditure for a higher IP rating yields sufficient benefits in terms of equipment protection, longevity, and performance for your setup.
Ask the Experts
When in doubt, consult with the slip ring manufacturer or an experienced engineer. They are likely able to guide you more accurately based on their experience and understanding of various applications and environments.
Verify Vendor's Claims
Ensure the vendor can support their claims of the slip ring's IP rating. This could be backed by certifications, test reports, or willingness to provide a sample for testing purposes.
Consider Future Needs
Anticipate future needs and choose a slip ring that can survive foreseeable changes to your operating environment or application. This foresight can prevent future costs associated with upgrades or replacements.
Following these tips can ease your buying decision and improve the chances of choosing a slip ring that meets your specific needs. Remember, a properly rated slip ring can reduce breakdowns, extend the life expectancy of your equipment, and offer safety in your application.
Conclusion
Understanding the Ingress Protection (IP) rating is vital when choosing slip rings as it specifies the device's degree of protection against solid objects and liquids. The specific environmental conditions, such as dust, moisture, and exposure to water, along with the slip ring's application, play significant roles in deciding the optimal IP rating. Recognizing the balance between the level of protection, embodied by the IP rating, and the associated cost is crucial. A higher IP rating ensures a higher level of protection but also comes at an elevated price.
In navigating this complex decision, consulting with experts and manufacturers can add significant value. Their experience and insights can help in selecting an appropriate IP rating that caters to your operating environment and application. At the same time, it is also essential to verify vendors' claims regarding the IP rating and consider future needs to avoid premature obsolescence. Thus, a thoughtful choice considering all these factors will yield a slip ring that ensures longevity, safety, and optimal performance, thereby contributing to smoother operations.
FAQ About Slip Ring IP Rating
Q: What does an IP65 rating mean on a slip ring?
A: An IP65 rating implies that the slip ring is totally dust-tight and can resist water jets from any direction.
Q: Can I use an IP20 slip ring for outdoor applications?
A: It's generally not advisable to use an IP20 slip ring for outdoor applications as they're not sufficiently protected against water ingress.
Q: How can I verify the IP rating of a slip ring?
A: To confirm the IP rating of a slip ring, you can demand supporting IP certification from your supplier or conduct independent tests based on the IEC standards.
Q: Is a higher IP rating always better for my slip ring?
A: Not necessarily. While higher IP-rated slip rings offer better protection, they might not always be necessary and could unnecessarily increase costs. Identifying the right IP rating based on your application is key.
Q: Can a slip ring's IP rating be upgraded?
A: Yes, it's possible to upgrade a slip ring's IP rating by adopting different sealing methods or materials. You can consult with your supplier for potential upgrades.
Remember, a comprehensive understanding of Slip Ring IP Ratings is crucial in choosing the right slip ring to ensure optimal operation in your specific environment and application.