Introduction
Large diameter slip rings are essential components in a wide range of industries, enabling electrical power and signal transmission between stationary and rotating components. As technology advances and demands for seamless transmission capabilities grow exponentially, it becomes increasingly necessary to understand these devices in greater depth. This guide is designed to provide a thorough exploration of everything you need to know about large diameter slip rings, catering to professionals and enthusiasts alike. We will delve into the working principles, key features, selection criteria, installation and maintenance guidelines, real-life case studies, and future trends. This comprehensive guide aims to empower you with a well-rounded understanding of large diameter slip rings, ensuring that you're equipped to navigate the complexities of this fascinating field.
Large Diameter Slip Rings: Overview
Large diameter slip rings, or rotary electrical joints as they are also known, are designed for systems that require the transmission of power, signals, or even data between a stationary platform and a rotating structure. These slip rings play a pivotal role in systems where continuous rotation is necessary but a constant connection needs to be maintained.
The importance of large diameter slip rings in numerous applications cannot be overstated. They are essential to the functionality of many systems where transferring power, data, or signals across a rotating interface is necessary. They eliminate the need for wires that could get tangled when the system rotates, thus ensuring smooth operation.
There are various types of large diameter slip rings catered to the specific needs of the industry. They essentially differ in materials, the number of circuits, mechanical installation methods, and rotating speed. The common types of slip rings include capsule slip rings, through-hole slip rings, pancake slip rings, and Ethernet slip rings.
Large diameter slip rings find their applications in numerous fields. For instance, they are used extensively in wind turbines where power and signals need to be transmitted from the stationary tower to the rotating nacelle. Another significant area is satellite communication systems where data needs constant transmission while the satellite rotates. Automation equipment, packaging machines, cable reels, and imaging systems are other prominent application areas.
Large Diameter Slip Rings: Working Principle
Basic Operating Principle
At their core, large diameter slip rings operate on the principle of transmission across a rotating interface. To establish an electrical connection across this rotating interface, they use brushes and rings that maintain contact, allowing power, signals, or data to be transferred from a stationary platform to a rotating structure.
Technical Components
There are three primary components in a large diameter slip ring: the rings, the brushes, and the housing. The rings are connected to the rotating part of the equipment while the brushes are linked to the stationary section. Sometimes, ring grooves are designed to fit in a specific way and to hold contact with the brushes. The housing functions to protect the rotary joint from external damage or environmental factors, keeping the slip ring durable and operational for a longer span.
How Different Parts Interact
In the working process of a slip ring, the brushes slide on the surface of the revolving rings. They create a connection between the stationary wires (brush wires) and the rotating wires (ring wires). As the equipment rotates, the electrical signals or power is passed from the stationary brushes across the rotating rings. This brushing method ensures a continuous transmission of electrical signals or power to the rotating interface. This interaction between the different parts allows for a seamless exchange of power, signals, or data between stationary and rotating structures, thereby enabling continuous operation without twisted cables or interrupted connections.
Large Diameter Slip Rings: Key Features
Physical and Technical Features
Large Diameter Slip Rings come in various physical sizes, designed according to their specific application demands. Large diameter slip rings can house more circuits than standard slip rings, extending their data and power transmission capabilities. They have rings of larger diameters to accommodate bigger central passageways, making them suitable for applications where larger rotating interfaces or high-speed data transmission are required.
From a technical perspective, these slip rings can work at high rotating speeds, efficiently transmitting multiple types of signals while maintaining low electrical noise. They present excellent electrical performance, including low electrical resistance and high dielectric strength. Large diameter slip rings can integrate various signal types, like Ethernet, USB, HDMI, fiber optic, and many others. Furthermore, they can handle a wide temperature range and generally boast of high lifecycle endurance.
Standard vs. Custom Solutions
There are standard large diameter slip rings available off-the-shelf, catering to a wide variety of applications. However, every project comes with unique demands and sometimes a standard solution may not suffice. This is where custom solutions come into play.
Custom large diameter slip rings are made-to-order, designed specifically in accordance with the unique requirements of a project. These criteria can include transmission types (power, signal, data), operating speed, size, and the required number of channels. A careful understanding of the project's requirements is crucial during the design process of custom solutions, ensuring efficient performance and long lifespan.
Large Diameter Slip Rings: How to Choose
Determining Factors
Choosing the right large diameter slip ring isn't a one-size-fits-all process – your selection should hinge on careful consideration of several key elements:
Size: The size of the slip ring is determined by its intended application. Larger sizes will offer more circuitry and therefore higher transmission capabilities.
Transmission Speed: Enhanced data or signal transmission speed may be a requirement for certain applications. Check if the slip ring is designed to handle high-speed transmission.
Number of Channels: Depending on the complexity of the system, you may require a slip ring with a higher number of channels to accommodate multiple signals or power lines.
Current and Voltage Capabilities: Different equipment or applications require different current and voltage levels. The slip ring must be able to handle these specific requirements.
Environment-Compatibility: The slip ring should be able to perform in the environment in which it will be installed. This includes factors such as temperature resistance, water or dust-proofing, and any chemical or physical exposure.
Importance of Quality and Durability
While these considerations are all important, it's crucial that you don't sacrifice quality for cost. A good quality slip ring will be more reliable, have a longer lifespan, and a lower total cost of ownership in the long run. Always opt for durable and high-quality slip rings that would withstand the rigors of use and time.
Also always consider the reputation and reliability of the manufacturer or supplier. A dedicated supplier will provide after-sales service, ensuring that replacements and maintenance guidelines are readily available, hence prolonging the life of the slip ring.
Large Diameter Slip Rings: Installation & Maintenance 
Step-by-step Installation Process
Review and prepare: First, read the accompanying user manual and ensure all necessary components are included. Clear the installation area of any objects or debris and gather the required tools.
Mount the slip ring: Secure the housing of the slip ring to the stationary part of the equipment using the appropriate mounting method. This can involve flange, bracket, or other fixation methods.
Connect the rotating section: Carefully attach the rotating wires (ring wires) to the rotating part of your equipment, ensuring a proper connection without any loose wires.
Connect the stationary section: Similarly, connect the stationary wires (brush wires) to the stationary part of your equipment, making sure that all connections are secure.
Align and secure the slip ring: To prevent excessive wear or damage, confirm that the slip ring is well aligned with the rotating equipment axis. Make any necessary adjustments and secure the slip ring in place.
Test the connection: To verify proper installation, rotate the equipment and check if the slip ring is transferring power, signals, or data as intended.
Regular Maintenance Steps
Regular inspection: Periodically check the slip ring for wear or damage to brushes, rings, or housing.
Clean the rings and brushes: Use compressed air, a lint-free cloth, or a brush to carefully clean the rings and brushes, ensuring that the slip ring surface remains free from contamination and debris.
Lubrication: If recommended by the manufacturer, apply the specified lubricant to the brushes or rings to maintain efficient contact and reduce wear.
Check wire connections: Assess the integrity of wire connections and repair or replace them as needed.
Monitor temperature: Regularly monitor the temperature of the slip ring during operation to ensure it does not exceed the specified limits.
Troubleshooting Common Issues
Intermittent signal or power loss: This issue may arise due to worn brushes, debris, or a damaged rotating interface. To fix the problem, clean the contacting surfaces or replace any damaged components.
Excessive noise or vibration: Poor alignment or excessive wear of the slip ring can cause this problem. Realign the slip ring or replace worn components.
Elevated operating temperature: Overheating of the slip ring may result from excessive electrical load or insufficient ventilation. To resolve the issue, reduce the load or improve ventilation around the slip ring.
Always refer to the manufacturer's guidelines for troubleshooting and consult with a professional if the problem persists.
Large Diameter Slip Rings: Case Studies
Real-life Examples of Implementing Large Diameter Slip Rings
Wind Energy Industry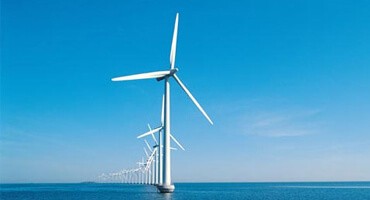 Large diameter slip rings have been extensively employed in wind turbines for transmitting electrical power and control signals from the stationary nacelle to the rotating hub. They play a critical role in minimizing the mechanical torque and electrical resistance, ensuring the smooth and efficient functioning of the turbine.
Industrial Automation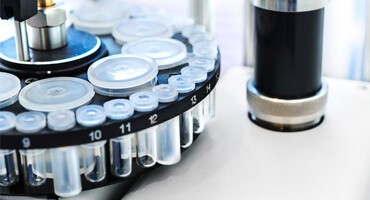 Within the machinery of automated production lines, large diameter slip rings have facilitated the continuous motion of robotic arms and rotary tables, providing uninterrupted transmission of power and signals without causing wire entanglements or twisted cables.
Medical Equipment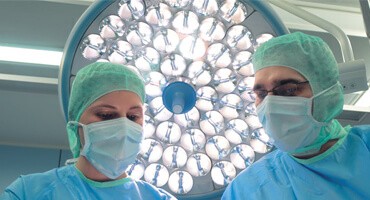 Medical diagnostic devices like CT scanners rely on large diameter slip rings to transfer high-quality images and electrical signals between the stationary computer system and the rotating gantry. In this case, the slip rings have allowed for precise and efficient communication between the machinery components.
Satellite Antenna Systems
Large diameter slip rings have been employed in retaining the connection between the antenna and ground equipment for satellite communication systems, supporting the tracking and continuous rotation of the antenna while maintaining reliable transmission of data, power, and signals.
Lessons Learned
The successful implementation of large diameter slip rings across various industries has taught us some valuable lessons:
Customization is key: Each application has its unique requirements and, therefore, designing slip rings to suit the specific needs of each project ensures maximum performance and lifespan.
Focus on quality and durability: Investing in high-quality slip rings minimizes the risk of failures, reduces maintenance requirements, and decreases the total cost of ownership over time.
Effective communication with manufacturers: Collaborating closely with slip ring manufacturers during the design and development stages helps achieve optimal results, taking into account technical requirements, budget constraints, and project timelines.
Maintenance is essential: Regular maintenance and inspection of slip rings are fundamental for their optimal performance and longevity, ensuring that the equipment functions efficiently without downtime or expensive replacements.
Large Diameter Slip Rings: Future 
Upcoming Technological Developments
High-Speed Data Transmission: With faster digital communication becoming a necessity, there will be a continual push toward innovative design and material solutions that could help achieve higher data transmission rates in large-diameter slip rings.
Compact and Miniaturized Design: Future designs of large-diameter slip rings are likely to focus on compactness and miniaturization to save space and weight while retaining high-performance capacities. The goal would be to fit the extra utility into smaller footprint-installations.
Integration of Smart Tech: Moving forward, there will be more emphasis on integrating IoT and Artificial Intelligence within slip rings, enabling real-time monitoring, predictive analytics, and even self-diagnostics of wear and failures.
Market Trends
Green Energy Applications: As we transition towards more sustainable energy sources, the demand within the wind energy sector is expected to propel the growth of the large diameter slip rings market.
Increased Automation: With the rise in automation across various industrial sectors, there will be a growing demand for reliable and efficient large diameter slip rings.
Rise in Defense Expenditure: Defense sectors across the globe are upgrading their equipment and systems. This means a probable surge in demand for large diameter slip rings in radar systems, tracking systems, etc.
Medical Innovations: As diagnostic machinery becomes more sophisticated, the direct impact will be seen in the demand for large diameter slip rings, particularly those offering high-speed data transmission.
Driven by these technological advancements and market trends, the future of large diameter slip rings looks promising and dynamic. The sector is set for continuous evolution and growth, with the landscape becoming increasingly competitive.
Large Diameter Slip Rings: Types 
Here are a few examples:
Through Hole Slip Ring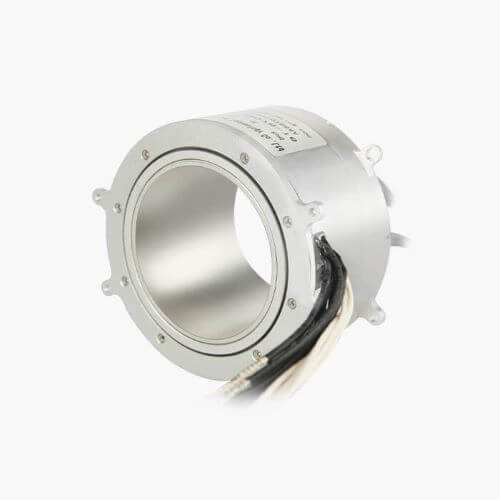 Through hole slip ring is a kind of slip ring with a hole in the center. Same meaning as a through-bar slip ring, sometimes called a hollow shaft slip ring. Through hole slip ring totally meets with continuous transmission of power, signals, weak current, high current, and high voltage under 360-degree unrestrained rotations. Low torque, low electrical noise, low loss, and easy maintenance as the main features.
The process of manufacturing and principle are similar to other slip rings. Power, signals, and other data are transmitted from the fixed position to the rotating position through the contact between the brush and the contact. Gold brush and contact will increase the working life. The basic technical parameters of a hole/bore slip ring mainly include bore outer diameter, bore inner diameter, length, circuits, voltage, current, maximum speed, etc. The length is variable and can be customized arbitrarily, while the outer diameter and inner diameter have some standard dimensions in through hole electrical slip rings industry. The number of circuits is the one core parameter for this series of products, the larger the number of circuits, the more complex the manufacturing process, and the higher the price cost.
Ethernet Slip Ring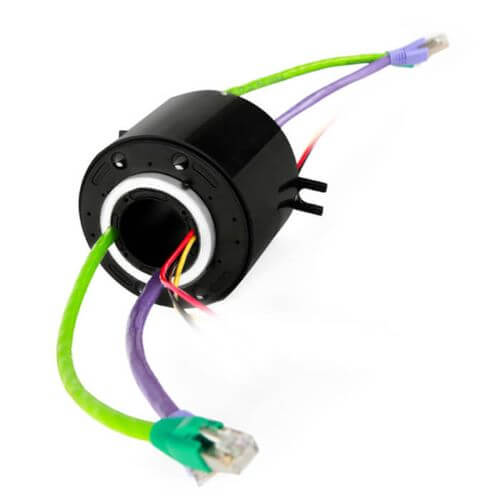 Ethernet slip rings are slip rings with Ethernet connectors that allow to transmission of Ethernet protocol through a rotating interface. Ethernet hybrid slip rings run power, signal, and Ethernet from stationary structures to rotating platforms through copper or gold channels. Can mix electrical power and signals, and also transmit multi-channel low-frequency signals and currents.
Ethernet slip ring suitable for 10/100/1000 Base T transmission and usually equipped with RJ45 connector assemblies for plug and play. M12, CAT5E, or CAT6 cables are available as options. Gigabit ethernet slip rings can be used in wind turbines, industrial robots, and radar antennae which need rotary platforms.
Pancake Slip Ring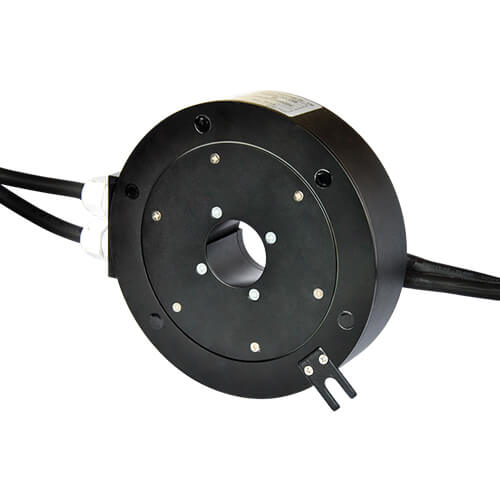 The pancake slip ring is similar to through through-hole slip ring but is especially used for the rotating system with a height limit. Also called flat slip ring, flat disc electrical slip ring, or platter slip ring, since the shape is similar to a platter, rings, and brushes contact around the center of the circle. Pancake slip ring components include stator, rotor, and contacts, mainly used for transmitting precise signals and power or combined with pneumatic and hydraulic media. More electrical power, current, and signal circuits can extend broadwise limitless on flat diameter.
Pancake slip rings can be configured in two types, integrated and separated.
Integrated ring types can be designed for solid or through-hole rotating systems.
The separated ring type is composed of a separated rotor and contact brush, which can be designed with PCB.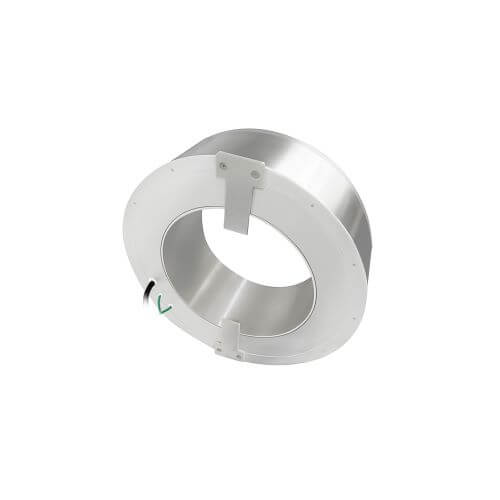 The slip ring can work stably under a 100~250℃ high-temperature environment, even above 250℃.
USB Slip Ring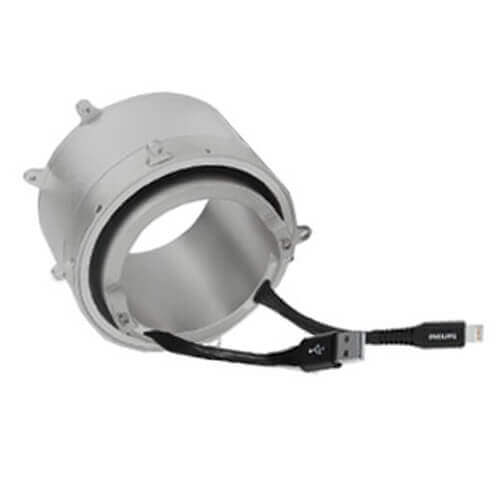 A USB slip ring is specially designed to transmit USB1.0/USB2.0/USB3.0 signals through a rotating interface. USB 2.0 slip rings are widely used in all kinds of communication systems since the USB interface is very popular and convenient for HD video and super-large storage devices. The new generation slip ring for standard USB 3.0 provides a theoretical transmission rate of 5Gbps.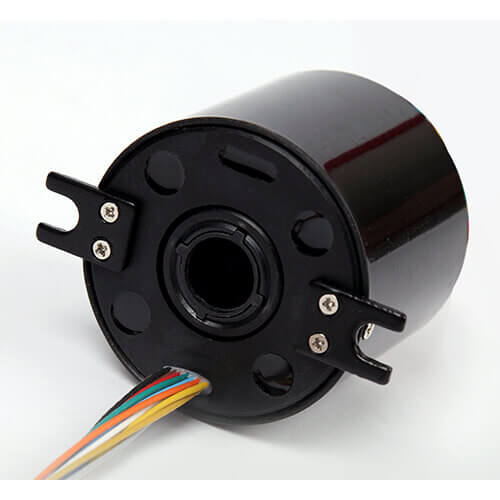 A slip ring can reach 2000 rpm and work stable, even above 4000 rpm.
High Voltage/High Current Slip Ring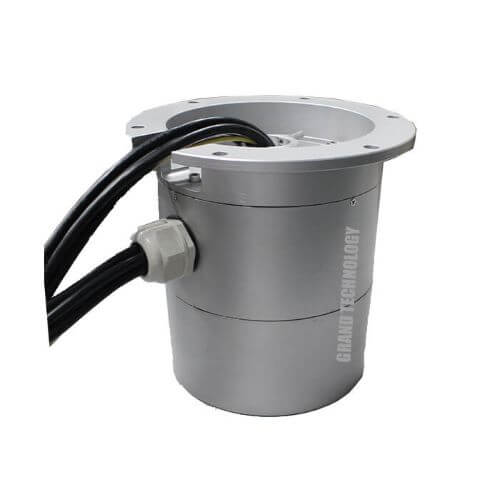 High Voltage/High Current Slip Ring are used for communication devices, large machining centers, antenna radar systems, large cranes, mining machines, and large cable reels. High voltage sometimes requires more than 2,000 volts and high current sometimes requires 500 amperes.
Waterproof Slip Ring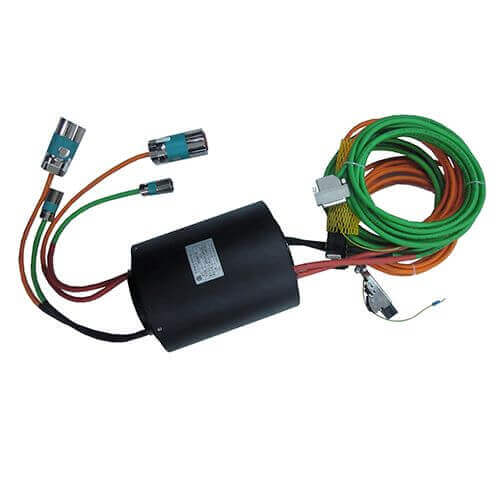 A waterproof slip ring is especially for working under moisture, corrosion, and underwater. The protection grade will be IP65, IP67, and IP68, and the liquid components in the working environment such as freshwater, seawater, and oil should be considered. Waterproof slip rings are widely used in ships, harbor equipment, and some water or moisture environment working conditions. The units work well for transmitting precision signals, and electrical power.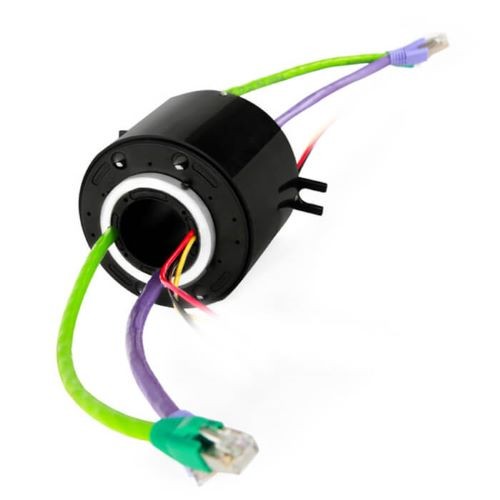 The industrial bus type mainly solves the digital communication between the field equipment such as intelligent instruments, controllers, and actuators in the industrial field, as well as the information transfer between these field control equipment and the advanced control system. The bus design will directly affect the performance, reliability, expansibility, and upgradability of the whole microcomputer system.
Servo Encoder Slip Ring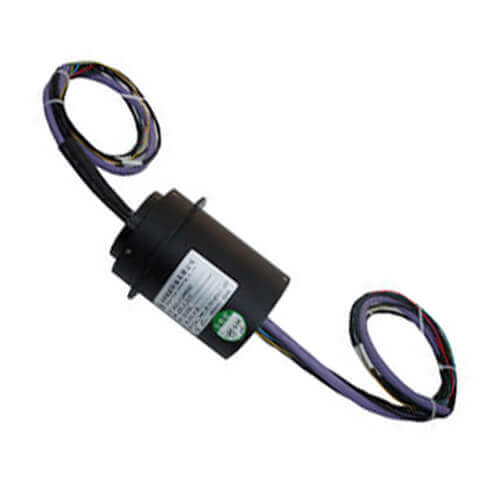 The servo encoder slip ring is an electrical slip ring that works for the servo encoder signal and servo motor power supply. The servo encoder slip ring can save many cables and installation works to transmit data and power. Suitable for all kinds of servo/stepper motors. Supplies usually use gold contacts to avoid external interference and internal interference.
Capsule Slip Ring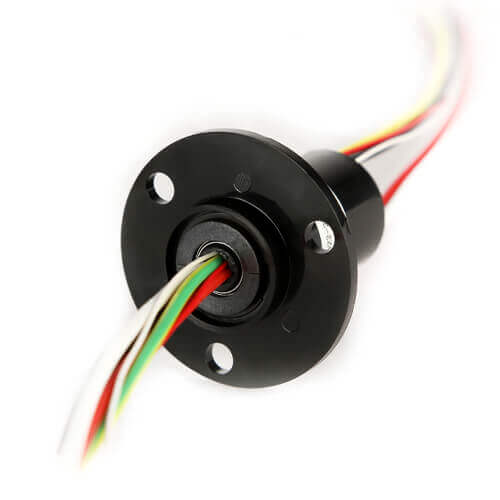 Capsule slip rings are often offered in a compact size with flange-like miniature slip rings, used for electrical power transmission and data transfer between a stationary and a rotating part. Capsule Slip Rings also have the rotor, stator, brush block, bearing, and housing. They are easily installed and widely used in small and medium-sized equipment, such as speed dome cameras, intelligent toys, stage lights, drones, etc.
Miniature Slip Ring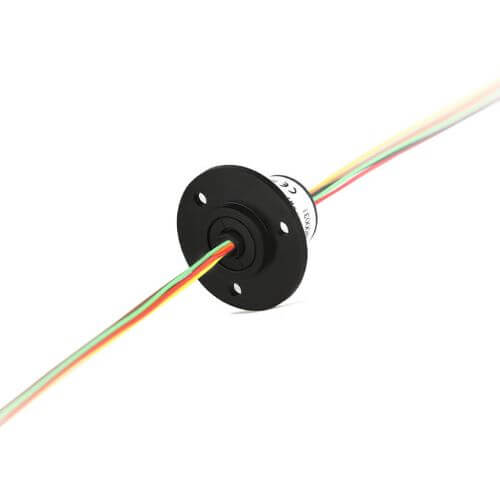 A miniature slip ring assembly is specially designed for small installation spaces. Also called a small slip ring, mini slip ring, compact slip ring, or micro slip ring. A miniature slip ring is the extension of a capsule slip ring through the bore slip ring. The miniature package units have been designed to offer an economical and compact solution for signal and power transmission between the rotor and stator side. Shaft or flange are the two main mounting methods.
PIN Slip Ring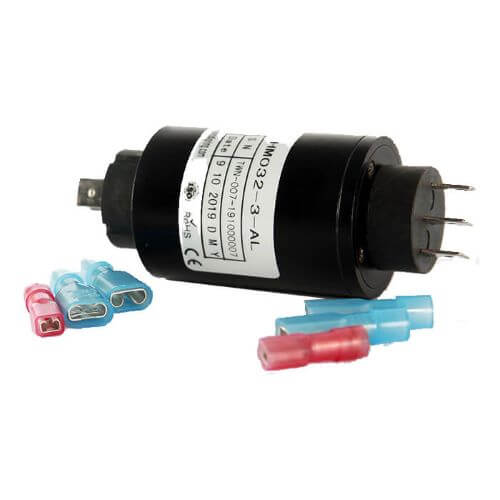 PIN slip rings are the substitute for mercury slip rings. Mercury slip rings use liquid metal mercury as the transmission medium. Special sealing technology, insulation, and compact design made them outstanding features like extremely long working life, low electrical noise, and contact resistance. Mercury is a chronic toxic substance. There have great potential threat to both the environment and the operators if leaked. People have been actively searching for alternative products.
HDMI Slip Ring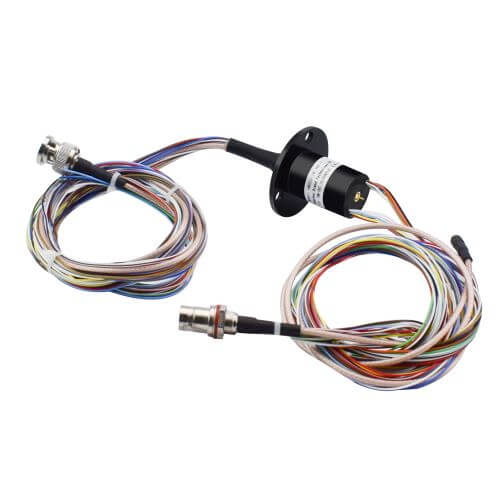 HDMI slip ring is based on an HDMI connector and transmits data and power between the rotor side and the stator side. HDMI and 3G-SDI slip rings provide the best solutions for transferring high-definition images and voice in a rotating system. Widely used in broadcast television, photography, and video as well the new technology like VR.
Fiber Optic Rotary Joint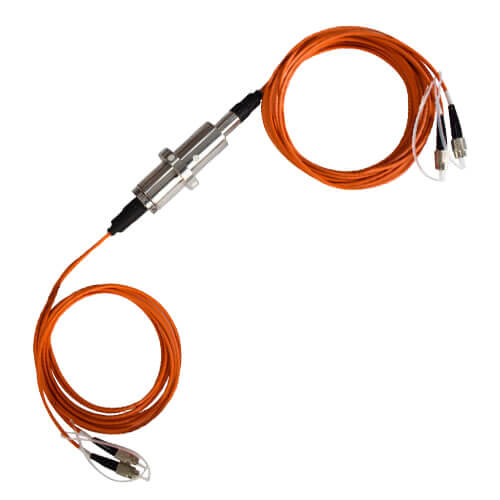 The fiber optic rotary joint (FORJ) is also called the fiber optic slip ring. Optic rotary joints FORJ help to transmit optical communication, like electrical slip rings are used to transmit electrical power and signals. FORJ provides a connection for uninterrupted transmission of optical signals across rotating interfaces. It is especially good for high-speed data transfer on many applications. The key parameters are Insertion Loss, Insertion Loss Variation, and Return Loss.
RF Rotary Joint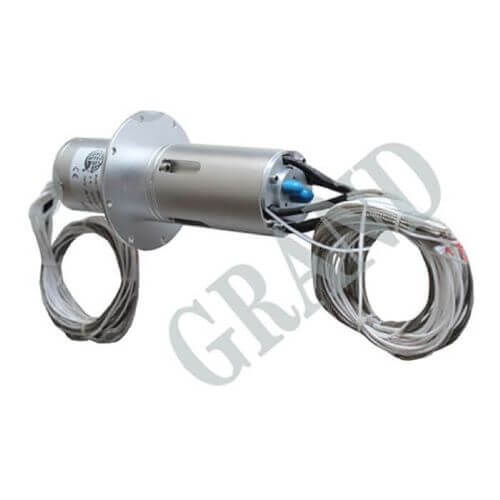 RF rotary joint is the abbreviation of radio frequency, used to transmit radio frequency signals between rotor and stator parts in a rotary system. RF rotary joints can be divided into three types, coaxial rotary joints, waveguide rotary joints, and waveguide to coaxial rotary joints. The possible applications range from radar antennae to military, air traffic control, and space. It is often necessary to receive and send multiple-frequency signals.